Autumn markets in Rheinhessen are colorful and diverse. Our author Marina Noble - herself a big market fan - took a look around three markets for you. In the process, she discovered how differently they are set up.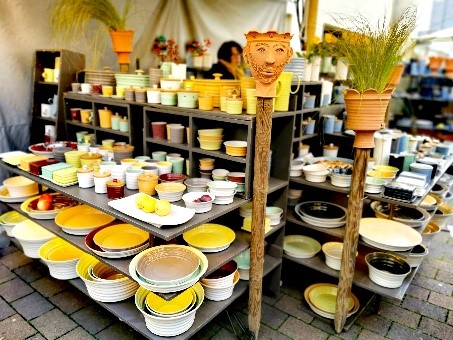 Are you also fans of markets? We enjoy strolling along the very different stands and discovering treasures that you can't find in any department store. You can feel that a lot of heart and soul has gone into the goods - whether culinary delicacies or handicrafts. In Rheinhessen, even small towns and villages bundle a surprising variety of offerings at their market. This is particularly large in the fall. Then freshly harvested fruit and young Federweisser enrich the palette. There is often a colorful accompanying program for young and old - another incentive to visit.
Country market in Dexheim: Pumpkin meets arts and crafts in the showcase Rheinhessen
Arranged compactly in rows on a meadow, you will find a particularly colorful mix of around 60 exhibitors at the Rheinhessen Country Market in Dexheim. As the name suggests, the focus there at the Weyell Winery has been on goods from Rheinhessen since the premiere in 2016. "Pumpkin meets arts and crafts" - the country market is a showcase for Rheinhessen with regional products and arts and crafts of all kinds. It is a mixture of shopping experience, culture and conviviality," is how one of the two organizers, René Harth from "Mein Rheinhessenwein", defines the concept.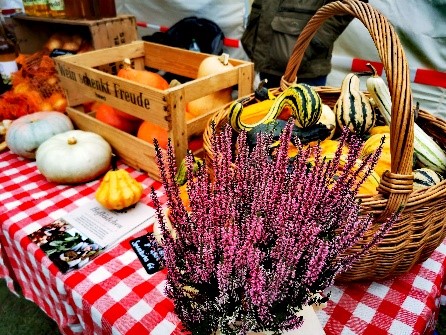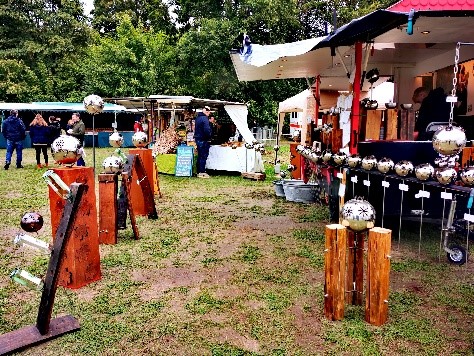 A fixed component is a colorful accompanying program. The second organizer, Wolfang Weyell, known for his music events and the series "Culture on the farm", stands for this. For example, children can enjoy theater and magic performances in the barn. For the grown-ups there will be live music. In addition René Harth, who calls himself a wine discoverer, serves a selection of good Rhenish wines and Federweißen in the courtyard. Hunger will be satisfied with tarte flambée and other delicacies from the estate kitchen. Here you can enjoy with all your senses.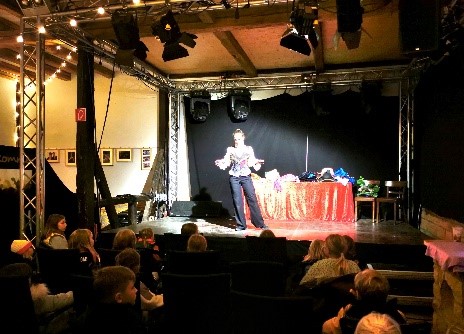 Strolling through the stalls, we discover many surprising things. There is a delicious smell at the coffee roastery and where Dutch stroop waffles and quark balls are baked. Wide is the range of culinary products offered by often small manufactories: game and sausages, pasta vegetables, fruit, bread, delicatessen, jams, honey, spreads, chutneys, juices, nibbles and cheese to smoked fish, spices and distillery products. And of course pumpkins. You can already think about Christmas presents with creative handicrafts and decorative items made of wood, metal or felt. In addition, there are textiles and self-sewn such as pillows, bags and aprons, paper and stationery, sheepskins, brushes and jewelry, including unique and upcycled parts.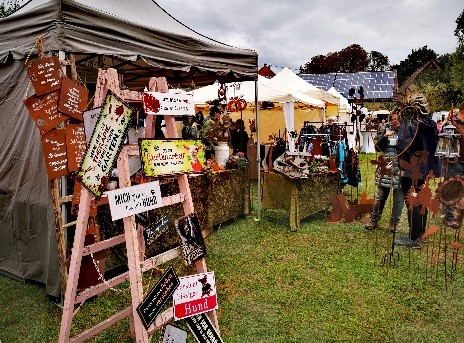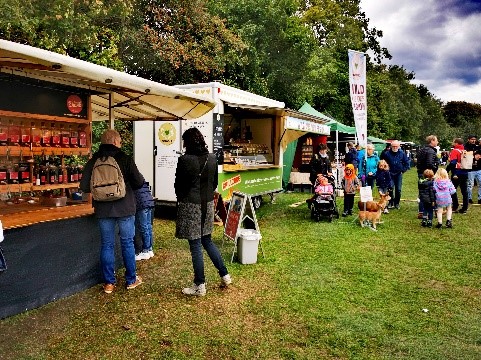 René Harth looks to the future: "We want to further expand the offer for our visitors. That means offering even more farm products and upscale handicrafts. There will also be more offerings in the supporting program. Especially the children's theater, which we had for the first time in 2022, was very well received by the young visitors. Our fall market should remain interesting and attractive for all ages."
To the point ...
Date 2023: Sunday 17 September
Where: Weyell Winery in Dexheim
More info: https://www.rheinhessischer-landmarkt.de/
Farmer and Handwerkermarkt Nieder-Hilbersheim: Community performance and championship in the Straw bale rolling
The whole village is involved in the market in Nieder-Hilbersheim, southwest of Mainz. The result is a colorful autumn market worth visiting in the courtyards and alleys. There you will find about 70 exhibitors, a wide range of food and drinks as well as a colorful accompanying program. Special highlight: The Rheinhessen championship in straw bale rolling - more about that in a moment.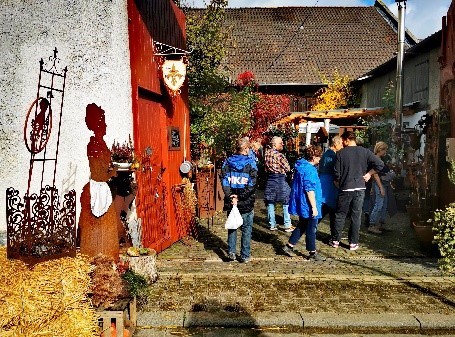 First we look around the stalls and courtyards that are spread throughout the old town center. There are basket makers and brush makers, sewn and painted and decorative pieces made of wood and old beams. We also discover a lot of culinary products, for example sausages, poultry products, cheeses, oils, chutneys, jams, spices, honey and freshly baked bread. Of course, in Nieder-Hilbersheim, which is characterized by viticulture, good wines and fruit brandies are not to be missed. Tables in beautiful courtyards invite you to take a refreshing break. There, the associations and winegrowers serve hearty dishes such as liver dumplings, boiled meat and tarte flambée or coffee with homemade cake.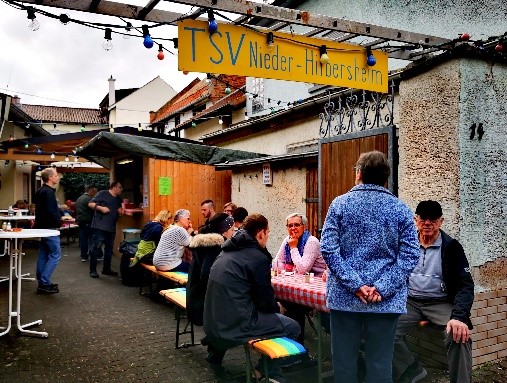 The market in its current form has been organized by the community of around 650 inhabitants for over 20 years. It goes back to a harvest market of the parishes with the local farmers and vintners. Today, the association Bauern- und Handwerkermarkt Nieder-Hilbersheim e.V. takes over the organization. Kerstin Hessinger reports for the association: "Members are the local associations and farmers, who prepare the market with their voluntary helpers. We put the market every year under a motto, which the members determine at the beginning of the year".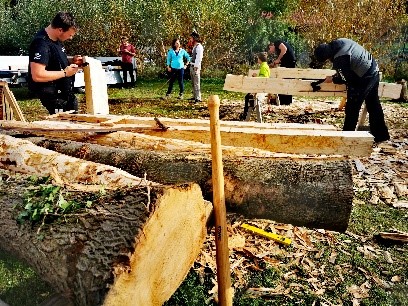 Last year, the theme was "Wood - versatile beauty". Visitors were able to see how beams are made according to old carpentry traditions. In 2023, the theme will be "Gardens - insect-friendly & sustainable". The accompanying program also includes musical performances on the show stage, appearances by the elected market princess and a show of historic tractors. Children will be delighted by a magician and a carousel.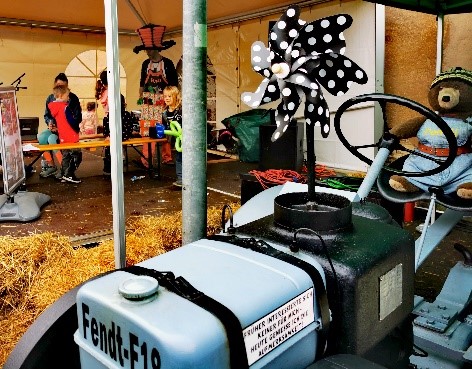 And there are the aforementioned Rhine-Hesse championships in straw bale rolling - a real spectacle, as a feat of strength for the participants. The teams have to maneuver a heavy straw bale over a 150-meter-long obstacle course with slalom and narrow sections. This colossus weighs around 300 kilograms for the men and only slightly less for the women. The straw bales are provided by local farmers - a joint effort like the whole market in Nieder-Hilbersheim.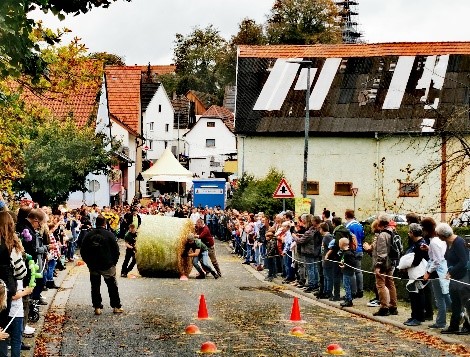 To the point ...
Appointment: Always on the 3rd weekend in October - i.e. Saturday, 14 and Sunday, 15 October 2023.
Where: In the old village center of Nieder-Hilbersheim
More info: http://www.bauern-undhandwerkermarkt.com/
Pottery market Alzey: treasure trove for ceramic lovers and festival of aesthetics
The pottery market in Alzey is dedicated entirely to the beautiful and useful things made of ceramics. Spread over the three courtyards of the winery of the city of Alzey, more than 30 exhibitors show how diverse the material clay can be. They come from all over Germany and even from neighboring countries such as the Netherlands. The common denominator is described by Frank Jung for the organizers from the Freundeskreis Töpfermarkt Alzey: "We offer handmade tableware and unique pieces by master craftsmen - high quality combined with a wide variety of techniques. These range from porcelain from wood firing to salt glaze." A real treasure trove!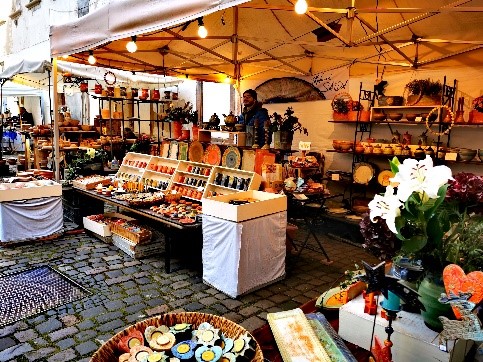 To admire and buy a wide range of utility ceramics: dishes, cups, plates, jugs, bottles, pots and baking dishes; to decorate bowls, wall objects and pictures, lamps and vases. Garden lovers will find quite different plant pots and flower containers - standing, lying, hanging. You will also find ceramic jewelry such as earrings and colorful ridge turret figurines - all unique or handcrafted small series.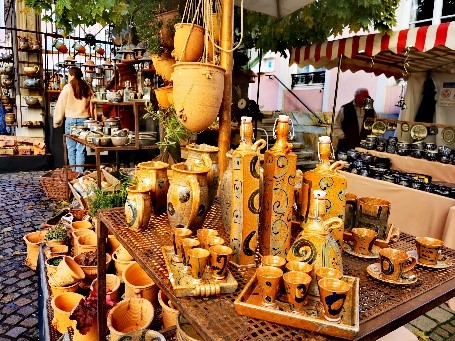 The color spectrum ranges from earthy terracotta and traditional with the basic color blue to cheerful floral or pop abstract patterns. Some pieces are timeless, pure white in a simple design language, others are nobly decorated with gold. There are also motifs especially for children, for example fish or fruit.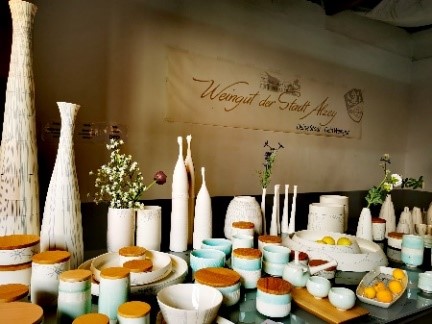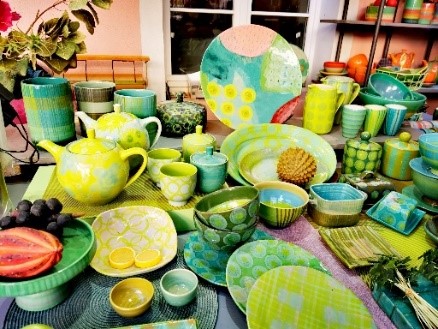 The idyllic setting is provided by the winery of the city of Alzey. During the market the Vinothek is open. There you have the opportunity for wine tastings and to buy gifts such as wines, sparkling wines, seccos and brandies. There you have the opportunity for a break with drinks and snacks. Or you can walk the few steps to the pedestrian zone of the city center with various cafes and restaurants.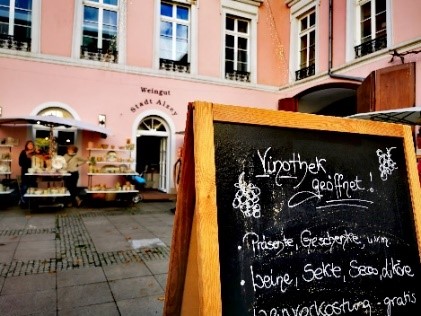 The organizers are grateful for the good cooperation with the city of Alzey and the city's winery - support comes from the electricity to the night watch. The circle of friends also does a lot on its own, for example, the selection of exhibitors. This year, the pottery market is already taking place for the 35th time - one of the leading and most traditional ceramic markets in the Rhine-Main area. Or as the Mainzer Allgemeine Zeitung described it a few years ago: "a festival of aesthetics.
To the point ...
Date 2023: Friday, 10. till Sunday, 12. November 2023
Where: Winery of the city of Alzey, Schlossgasse 14 in Alzey
More info: https://toepfermarktalzey.com/